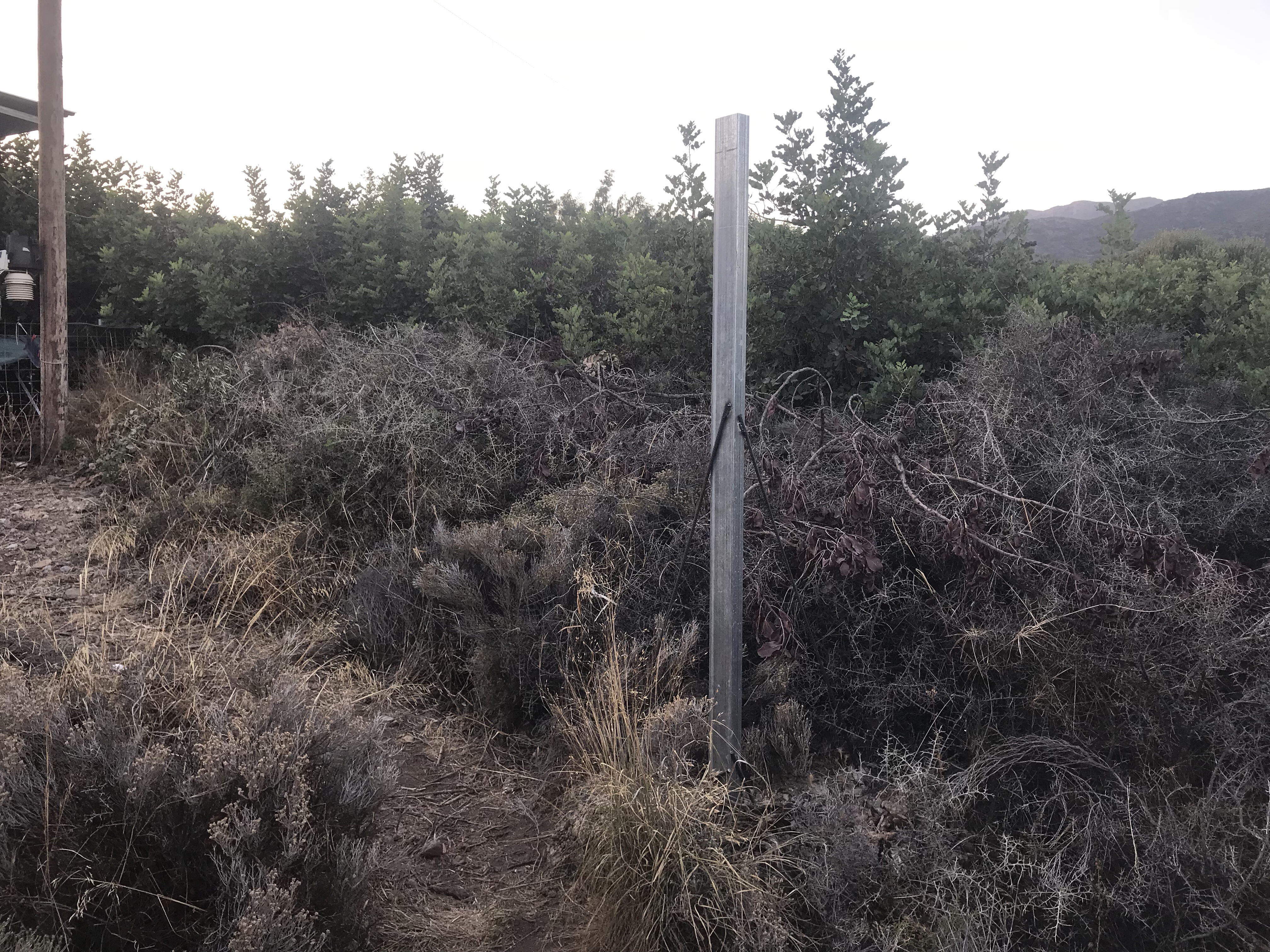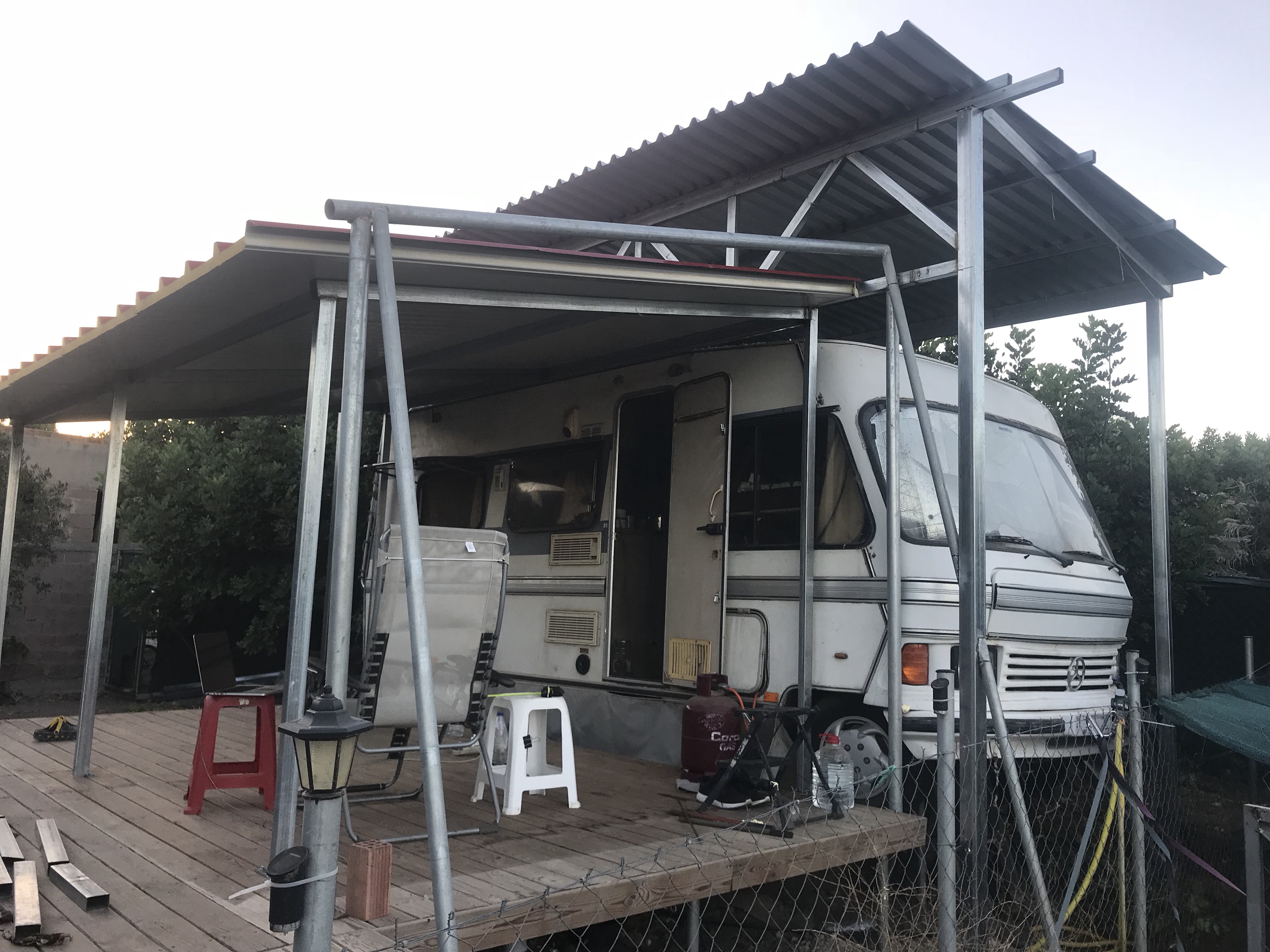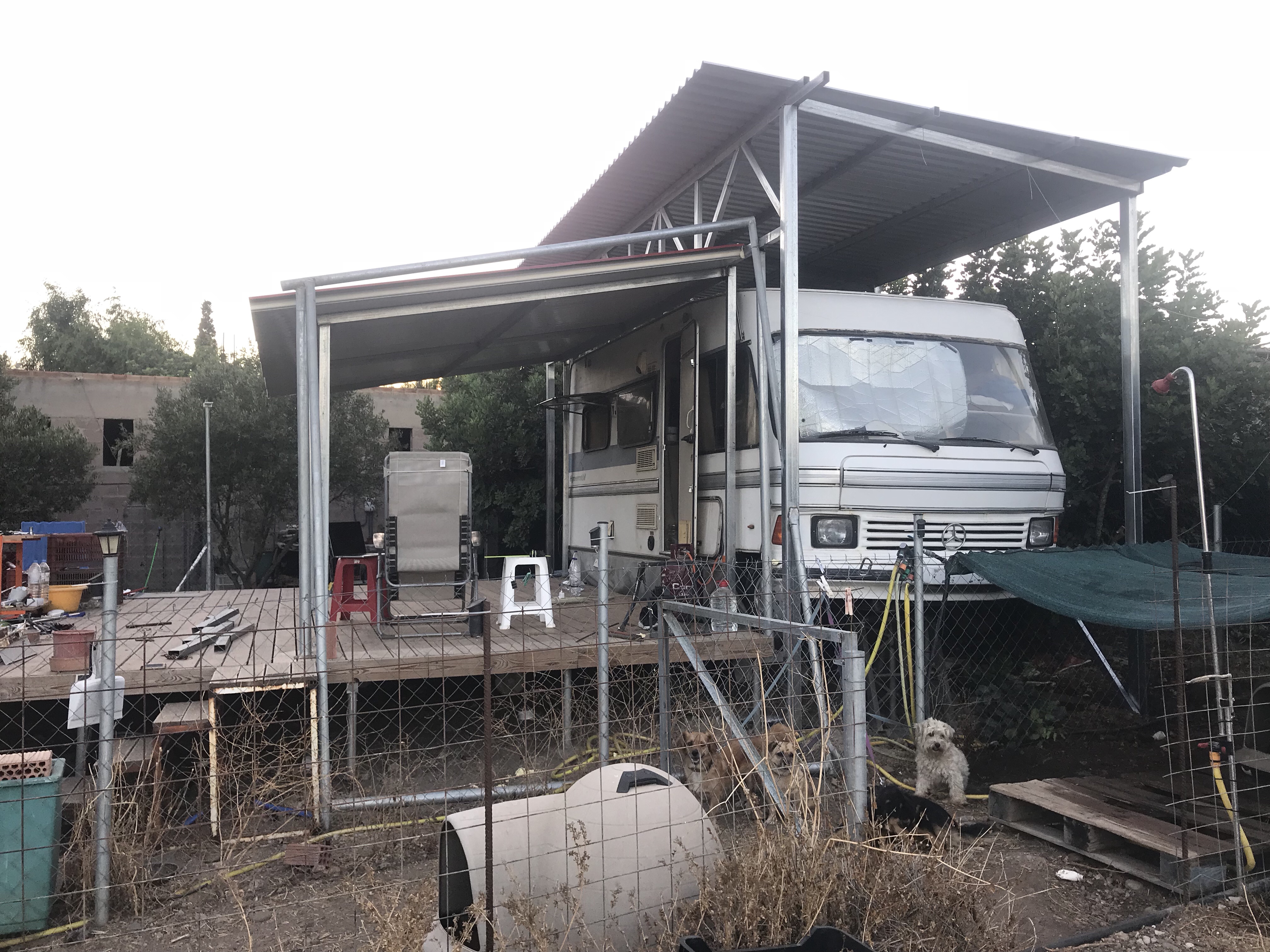 The job is 98% complete with only a few odds and ends to deal with. I will have a better idea after some rain and some high winds. Fortunately, wind is far more prevalent at this time of year than rain!
They went off with most of the tools and cleared away most of the metal work. I need to spend some time straightening out the compound as it resembles the Somme in 1916 at present.
I can now get my head around how I will use my new space as well as make some more permanent arrangements for lighting. Now that I have a structure which does not need to come down at the threat of any heavy weather.
The things that need attention can wait until October or November when the camping is empty and we can make as much noise as we please. I will have had an opportunity to see how it works by then too. I have a pole for my weather station so it can move, only four years later, from its temporary location on the telegraph pole. Antonis drilled a huge rock, hammered metal rod into the holes before welding some of the spare metal left over from the project to the rods. This will give a firm base for the weather station sensor unit.
I spent the remainder of the day working on Inter Sport's Lewes server which I've been ignoring since January after the aborted transfer from the old one. I need to get this done in such a way as they can continue to work whilst I move their mailboxes over. I need to spend time on this to move it along.
Wandering to the office to pick up a package which Georgia thought might belong to me and I stopped off for a chat with Sascha, Steffi and Marie. Zora was licking me so no need for another shower this evening! They invited me out to have a meal before they leave next Wednesday. They are going at silly o'clock like last time and they have another dog to transport for someone else meaning they need to arrive in good time to avoid any potential problems. Good for me as it means I should be back in time to walk them at about the normal hour. I shall incarcerate Fido so that we have no barking in the early hours. They also gave me some bean salad which was handy as I'd forgotten to cook the beans I'd been soaking since this morning. One of the benefits of an electric pressure cooker as you can bung it all on with the timer and it remembers when to cook so that it's ready at supper time.
As well as being warm, it was windy like yesterday. The high of 35.9℃ was at 15:40. The wind will moderate once the sun sets.
I should hopefully get things done at the right time today as there should be no need for long phone calls with Matthew. It would be good to get to bed a little bit earlier too!
It's 20:00 so I'd better take the dogs for their evening wander before tea, bath, bed.
Oskar and Pea were bothered by a couple of kites being flown over the Grammeno Beach in front of CBV. We were in the fields away from the beach but they could see them flying over the buildings. Both were very keen to get inside their houses and into a safe environment.
My sweetcorn is cooking on the hob and I have just popped round to Janne and Erica's to put an extension to the irrigation system to include the geranium in a pot on their decking. Their deck faces west so gets the sun mostly during the afternoon. The pot is quite large and the geranium not that huge so only need watering infrequently. Now it will be watered in the mornings with the other plants.