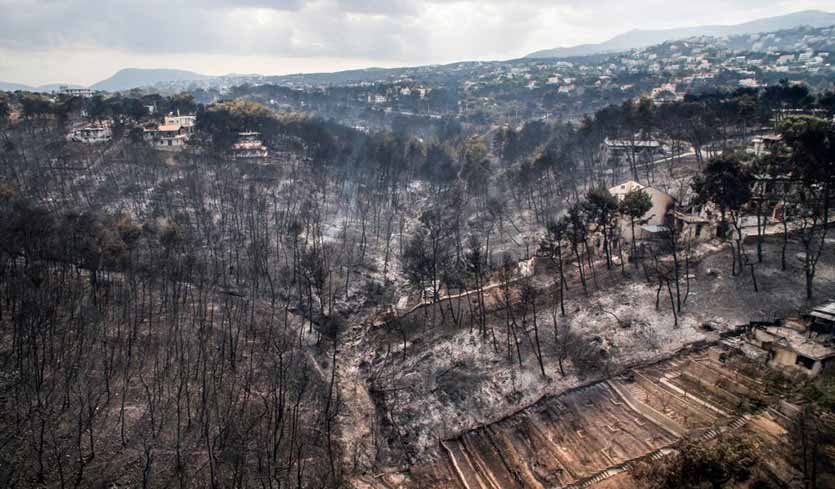 The death toll for the fires around Rafina and Mati is officially some 75 although this is likely to rise as rescue workers search through burned-out buildings and cars.
There was an early start to the day with a jolly jaunt to Souda Airport which is to the northeast of Chania. We left at 03:00 on schedule and met up with Sue from Azogires who was transporting the other dog Sascha agreed to chaperone to Berlin for someone else. The journey to the airport was uneventful other than the fire appliances parked at the roadside near Kakopetros which is around forty-five minutes drive from Grammeno. The smell of burning was omnipresent so one wonders what it must be like for those in the Rafina/Mati areas to the east of Athens.
At the airport, we quickly assembled Zora's huge dog transport box which was carried on the car roof as on the way out. I was quite keen to get back as some of my dogs were quite noisy when I left them on a previous occasion. I had taken precautions – Fido had been locked in his house, Luis and Oskar had a collar each. All was quiet when I parked up at 06:30. We went straight out on the Not-So-Early Walk. It seemed strange to be out in broad daylight. Normally, it is just starting to get light as we are returning from the walk. Especially now that sunrise is 06:30.
During the journey, Sascha was keen to talk to me about a conversation we had a couple of weeks previously. He said that he is planning to leave Grammeno as he is unhappy with the way he's been treated. I felt that the location for his caravan was less than optimal from the outset however he seemed happy with it. Unfortunately, it occupies a route-centre so is frequented by a lot of footfall to the IsoBox, the office, the car park and the nearby camping area. Added to that, there are a number of small tents which periodically appear nearby leaving them little privacy. The crowning glory was the addition of the Grammeno rental caravan the day they arrived on site. As an operation in planning and customer relations, this was a masterpiece! Georgia assured Sascha that the caravan would only be occupied one weekend and that she would sell it in September. It would appear that the caravan was occupied each weekend and as for its sale…
Sascha has been carrying out some research and has found a house for rent in Azogires in the mountains. The house has a small garden and the usual facilities. He plans to put his caravan on Martin's land so that it can be used as required. The major downside for both Marie and Steffie is that Azogires is far from the sea. From my perspective distance from the sea and chilly mountains with snow in winter don't do it for me. I'm able to put up with the tourists in order to remain by the seaside.
We talked about The Plot and he said he'd prefer to stay at Grammeno because of his friends there and the proximity to the sea. Sascha will email Maria to inform her that he is planning not to renew his rental arrangement with the camping which comes up in November. He will return to Grammeno in September at some point to make arrangements for the removal of their van. I imagine Georgia will remain unresponsive to his situation and put it down to the strange way Northern Europeans behave.
When I first came to Crete to live, I told myself that I would avoid becoming part of an expat community like so many in other Mediterranian countries. In light of my experience over the past five years, I can understand why such communities exist.
I have contacted Antonis to see if he is prepared to be my Front Man or undercover agent in a possible land purchase. I feel the price will immediately jump if foreigners are involved and I see the need to keep such transactions to a small circle of interested parties.
I've spent the day doing this and that with a little catch-up snooze to make up for my even earlier wake-up time. I sort of managed to catch up my day by doing a shorter walk and a shorter run. It was a bit warm for running by 08:00.
There have been a number of enquiries for accommodation from the camping's Google website which appears to be doing good business. Most of the queries I can answer unless they request booking information which only Maria has. There being no sensible solution to record and look up availability. If there is only one person dealing with enquiries it's just about ok but customers should be able to check availability themselves and make their own bookings so that the receptionist only has to deal with physical customers.