Some noisy [stray] dogs infiltrated the camping during the early hours resulting in manic barking from the northwestern quarter of the camping. Mine were disturbed by this, consequently, I was out of my bed around 04:35, slightly ahead of my daily wake-up time. I got up, fed the cats and then harnessed the dogs. Obi and Skinny were out all night as it was probably the best place to be. I didn't even bother with a sheet as it was so warm and only wore a T-shirt and shorts for the Early Walk.
The walk went well and I was able to return with the same number of dogs with which I set out. Skinny, Charlier, Oskar and I completed the first circuit, everyone except Luis the second. We left him tied to a root complaining loudly. Oskar took pity on Luis and stayed with him until he was released at the end of the third circuit. Luis then burst into a frenzied activity of ball-chasing as if possessed by Beelzebub! Even with Skinny hot on his heels, he ran like a mad thing after his ball despite the warmth of the morning. Skinny, who on a previous day disappeared back to the camping, again went off but to return over the rocks to the lagoon area. Following all his activity, Luis plunged himself into the water and Skinny joined him. Luis got somewhat wetter due to his comparative closeness to the ground or the water for that matter. They began to flag and Skinny was getting bored: we had biscuits, buckled up and headed back all before 07:00. I experimented by not putting on the water heater to discover I was rewarded by a cool shower. I turned on the heater on my way back and even remembered, with the help of Siri, to turn it off thirty-minutes later.
My run was not as arduous as the previous day due to a slight westerly breeze. I made breakfast and then became embroiled in a little electrical project. Having replaced the two large 12volt lighting batteries with a much smaller AGM battery, I need to keep track of its state of charge and the amount of power I draw from it. Consistently discharging a lead-acid battery below 60% will quickly reduce its capacity. I purchased an electronic apparatus to enable me to accurately monitor the battery condition so needed to get into the location where the cables and battery are situated. This is the other side of the driver's seat which is piled high with winter clothes in bags, set aside for the summer. I made the necessary connections and the wireless monitor is sitting on the table next to me. The device is intended to protect the battery from overcharging and discharging as well as to warn you as the battery approaches the level set for safe discharge.
With my clothes mountain disturbed, I packed all of the winter garments into one of the vacuum storage bags I purchased from China. The idea is to fold the garments into this big bag then suck out the air using a vacuum cleaner. I put most of my winter clothes inside, neatly folded of course, then sucked out all the air. You end up with a large, flat, heavy package of highly compressed clothes which are easier to store, take up much less space and which are protected from dust and atmospheric pollution in general. We have more than our fair share of dust from the roadworks. The vacuumed pack reminds me of Han Solo in cryogenic storage in Star Wars.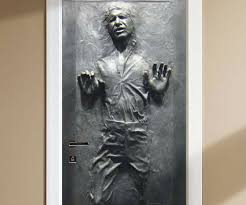 I now have a large pack but need to discover somewhere to put it until winter.
It's Friday and the camping is getting busy for the weekend. I think the first people are here to spend a night in the new, enhanced cabins next to T2 and T3. They are also not far from me and appear to have a somewhat noisy and active Small Being. Lucky for Janne and Erica that they left whilst the going was good.
Last night, I received an alert that someone had left a review and rating on the Grammeno Camping Google site. I could see it was only two stars and discovered, having queried it online, that the reviewer had visited the camping on a previous occasion, some while ago, to find it very busy and crowded. He decided it was unfair to leave a retrospective review and deleted it after a little encouragement from me. It only goes to show that it's worth following these things up.
It's been another hot day with a high of 32℃ (91℉). The Early Walk was long enough, there will be visitors on the Promontory, so an Evening Walk will be unnecessary. Reading and article about Cretan Hounds, it is recommended to provide your hound with at least one hour of exercise per day. This one had nearly two and looks much like a dog who just wants his supper and to lie in the shade!
Ursula, Tony and Heidi are now back at their cottage in France after a long journey from Crete. The leg back to their home in UK will feel like a walk in the park in comparison.
I need to find something to eat and I must go to the supermarket tomorrow. I may have forgotten to mention the cicadas are warming up for the summer and that it's only one week until the Summer Solstice which occurs on Friday 21 June this year. The Solstice will occur on Saturday 20 June in 2020.