No alarms just late to bed last night as I was waiting for the washing machine to end. When I tried to use it earlier, I found someone had beaten me to it so needed to wait until theirs had finished. I can't understand people who do their washing late at night! I usually do mine early in the morning but it's not so easy during the summer when others are up early and there is so much washing for the camping. I eventually went to bed having hung up as much as I reasonably could. It was becoming windy so I didn't want sheets flapping all night or getting caught in the trees. The preceding evening was a little fragmented as the dogs were restless. The weather is very close at present as are the neighbours. Anyway, only about another month and we will have reached the peak of the season, 15 August, and it will be all downhill from there until the winter season. Then I can reclaim the camping for myself and the other happy winter customers.
The Early Walk was reasonably uneventful, cool and moonlit. I could see a brighter area of the sky and wondered what it was. It then dawned on me that it was the moon behind the cloud as we approach the full moon which is tomorrow. There was an orange moon this morning and quite a bit of cloud about. We walked as we did the previous day so we were back early. I'd just put Luis, Fido, Charlier and Oskar in the van when there was an unrelenting outburst of barking. On closer inspection, I discovered that the cat was standing on the decking demanding breakfast whilst Luis was going into advanced core meltdown in the van. If the neighbours had been asleep, they weren't now!
I then took SBD and Skinny for a forty-five-minute walk so SBD got a fairer share. Skinny and I went running 5km east for a change. If I turn around at 2.5km at the point where the road surface has been completely removed, it's just about runnable so long as there are few cars to kick up the dust. It will be lovely once it's all finished. I've not run in that direction for quite a long time. At least we amused a different set of dogs this morning.
I splashed about in the sea for a while and then cooked some porridge. It was lucky I did because then the power went off for an hour or so. I fell back to my iPad and my phone for 4G access to the Internet and watched a YouTube video whilst eating my breakfast. I had a couple of calls, one from Kirsten to inform me that her new laptop has arrived and asked if I could set it up for her in the morning. I'd planned to get on with Annette's VM but my Windows computer here is having problems so I wasn't able to boot it to do anything useful.
I swept and mopped the van floor and that of the decking too. The black matting is still present outside as it's kinder to walk on than the wooden decking. Also, there's less dust when it's windy. Added to that, I can't be bothered to drag everything out to take it all up and there it is! It's sure to rain now that I've swept and washed the floor. In any event, it would only have stayed clean until tomorrow morning because Oskar and Charlie usually go swimming in the lagoon dragging in most of the sand on the Promontory when they get back to the van. They dry off whilst I'm out with SBD and Skinny, shake themselves a few times and we're knee-deep in sand and dog hairs again.
The storm which has been forecast for the past few days is still approaching and appears to be on course to strike this part of the island at least.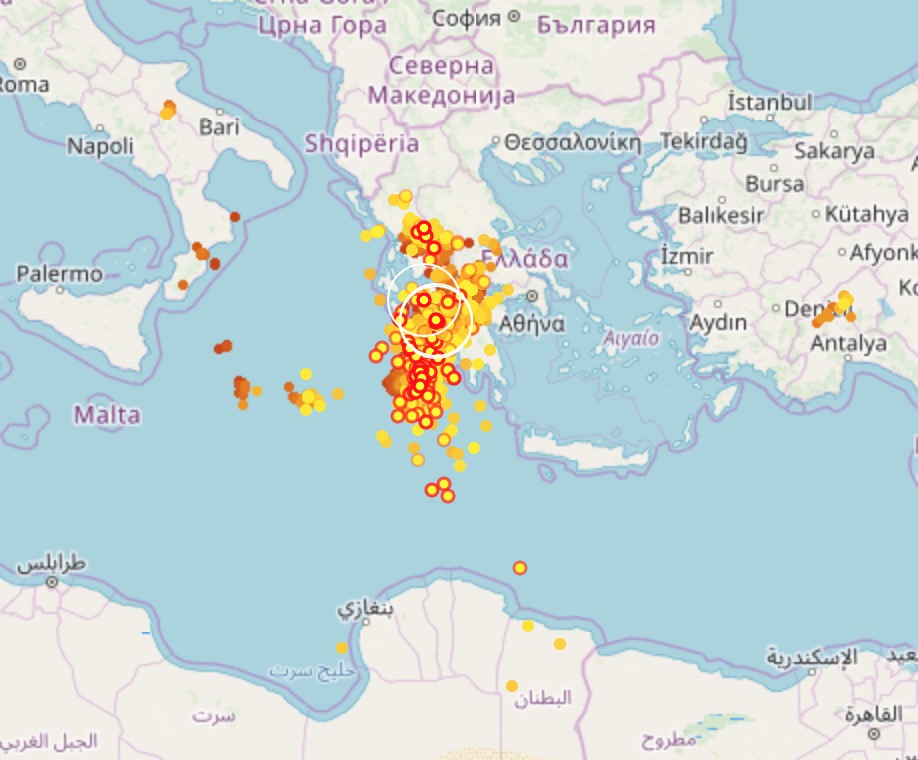 Ursula informs me that Samaria Gorge will be closed tomorrow due to concerns about the weather. Anyone who's travelled from afar may be less than impressed.
The neighbour and his small son are playing bat and ball on the other side of the fence again. I think I might bring all the dogs to visit their cabin later and perhaps play ball outside their front door.
There were fewer people on Anonáki beach when we went out yesterday evening. Certainly a lot fewer than there were over the weekend. I stood with the dogs a while just gazing out to sea. I even considered taking then for a quick spin around the Promontory but then thought better of it. We returned via the road and the camping main entrance. Even though most of the seeds have gone, they are not that keen to go back via the field despite a good path being trampled down by us going in-and-out. I'm going to take them for a walk now I think.
We walked to the end of the Promontory, onto the rocks and paddled in the sea a little. There has been an easterly wind for most of the day so there are waves breaking against the rocks sending water and spray over into the rockpools. We sat at the end for a while, just watching the waves coming in. It was noisy but peaceful and most enjoyable. There was a family inspecting the geology and the lagoon as well as a fisherman standing on a rocky outcrop. We ignored them all and enjoyed the moment. We returned via the road and the camping main entrance as that extended the walk by a little. My walking/running total for today is 16.58km with 95% of that in the morning and only the additional 2.18km in the evening. I went virtually nowhere during the day. Not even to the office.