There was a bit of a lazy start to the day as no one seemed very inclined to action. I didn't get up until 05:45! Having fed some of the pussies, we went out on our first walk along the Promontory. There wasn't too much wind so the going was quite pleasant. Also, dawn was breaking so it wasn't long before I could turn off my head torch.
We headed down to Plakaki but they too were all in bed! On we went to the end of the beaches and back again to the Promontory and over the rocks once more. There was no one else about.
I put the dogs in the van, fed the fluffy mummy pussy then took Isabella out for a walk with her ball. She was more interested in following some interesting scents than going after the ball however she managed to chase after it and bring it back a couple of times.
We went back and sat inside for a while as the other dogs seemed happy enough in the van. I eventually released them and gave them some food before preparing my breakfast.
The remainder of the day has been particularly uneventful as the sky was overcast for most of it although the sun broke through eventually and some of the dogs went outside. I didn't feel particularly active so spent time fiddling around with the CCTV recorder to get it to reliably detect motion and take a snapshot. It was more for something to do than necessity. I wandered down to the beach and bathed my feet in the sea then wandered up to reception where I was pussied out by a couple of the stray cats.
I returned to find Isabella and Luis playing noisily so decided to take the dogs for a quick walk to try to dissipate some of their energy. There was one car on Alonaki Beach and a couple in Grammeno Beach car park. We met no one as we headed down to the end of the Promontory where we found Franca and Mauro also out for the same walk as us. They allowed us to catch up and spent quite a while petting the dogs on the rocks at the end of the Promontory. We carried on together passing a couple of guys fishing off the Big Beach then went our separate ways as we neared the camping.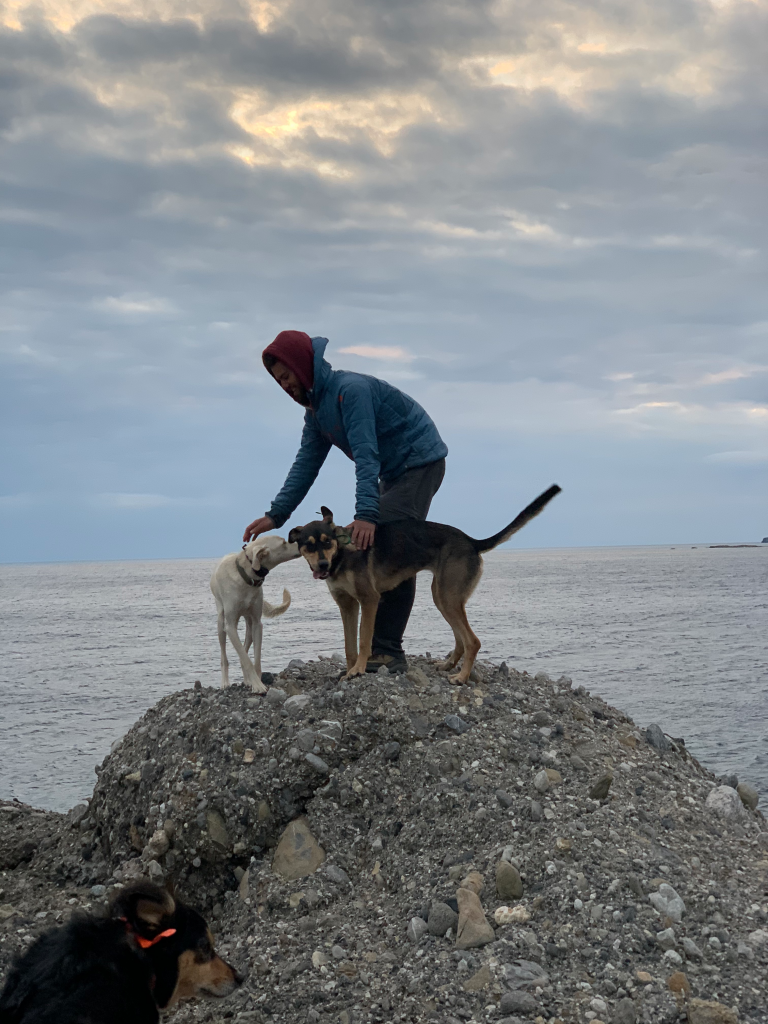 The food was ready in The Pot so I served up their rice, added some Doggy Dinners and kibble and they chomped away. It's now completely dark so they are all with me under the awning as Isabella is alone in the van where she was having her supper. She doesn't gobble her food quite so fast if she's alone.