It was 05:15 when I left my pit and released Skinny and Isabella to explore the world outside. We were going out of the gate just after 05:30 but it was still not as dark as I thought it might be.
The walk down to the end of the Promontory was tranquil with the sea to my left and the moon to my right. No need for a torch for navigational purposes.
Skinny managed to be present for some biscuits so we continued over the rocks and towards Alonaki Beach and then up to Plakaki. ''I found myself walking up the shingle once more but the dogs were scattered over the beach but still with me although Skinny was not to be seen until later.
I climbed onto the rocks at Plakaki and took some photos.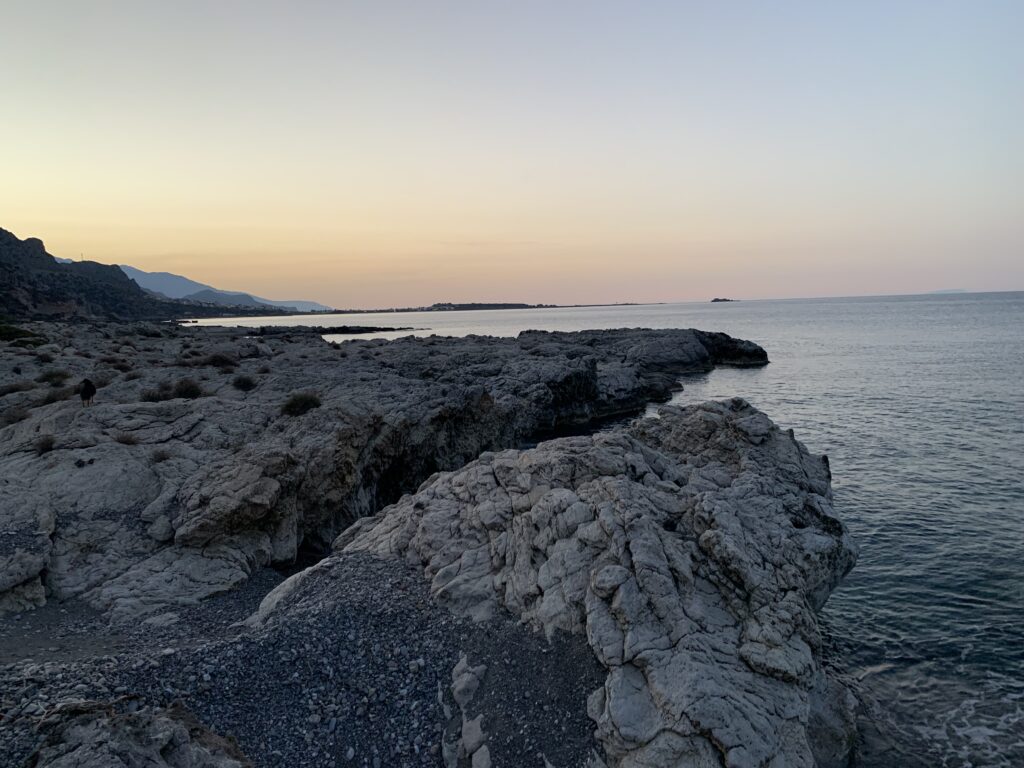 I summoned Skinny who joined us for some biscuits before we returned to the Promontory. Skinny and Isabella did some running around on the beach as there were birds to chase.
We were back at the camping early due to our early departure so I made some breakfast and got a few little jobs out of the way before leaving for Petrakis. I'd not recharged my bike battery so it was a fairly leisurely ride there and back so as to conserve energy – the battery's, not mine.
I bought mostly veg and fruit and some chicken bits for the Doggy Dinners then went round to the ACS office to see if my iPad keyboard was there. They don't open until 09:00 and I didn't much fancy a twenty-minute wait to find they would open later anyway so I headed back to the camping.
My breakfast was ready and the dogs needed feeding so I got on with that. I'd forgotten to get more biscuits in from the storeroom for Isabella so spent a while decanting them from the large sack. There were also pussies wanting attention as well as Doggy Dinners to prepare and shopping to put away.
The Doggy Dinners were quickly ready as I had chopped up lots of greens the previous time and put them in the fridge. I was soon able to sit down to enjoy my breakfast but sent a quick message to Maria to ask if she'd received any text from ACS about my delivery. She told me she'd received one and would phone their office to enquire after the delivery status. She said the keyboard would be delivered in about an hour.
I ate my breakfast and then wandered up to the reception with my iPad to await the arrival of the delivery operative. I expected to be there a while as it was a Greek hour so could theoretically stretch on indefinitely.
Tony and Bona were about so I could have sloped off but had some outstanding administration which I got on with. Bona popped in to let me know she'd clean the office tomorrow but needed to prepare for Georgia's guests too.
The keyboard arrived so I attached it to my iPad and gave it a trial run. Configuration was a complicated affair requiring me to attach the iPad to the keyboard and then turn it on. Afterwards, it just worked! I'm using the iPad/keyboard combination to write this. I have to get used to a smaller keyboard and a smaller screen as well as the differences between the Mac OS X operating and the iPad OS. There are few things I need to do which cannot be done equally well on an iPad. I've already adapted to the idea of touching the screen to select things which is more intuitive anyway. I need a keyboard for intensive writing and a trackpad too. Just using an iPad whilst balancing a Bluetooth keyboard on my knees is not really an option for me and I prefer to sit in a comfortable table to work rather than at a table. Not having to be attached to a charger is a great bonus, also a battery which lasts many hours and doesn't fall over after a matter of minutes. It will take me a while to get to grips with iPad OS but it shouldn't be too difficult as it has many features present in OS X for the Mac.
I returned to the dogs and checked out the Doggy Dinners before popping over to see Élias who was working by the kitchen. Mathilde was bringing lunch for Elias and the children so I left them to eat in peace. Elias said he approved of the iPad/keyboard combination and reckoned it was a sturdy arrangement. His Surface Pro is a convertible so the screen can be removed and becomes a tablet when he wishes. The Surface Pro is even more expensive than the MacBook I believe but he relies on Windows.
I'd agreed to clean the ice machine by Wednesday so, armed with a bottle of vinegar I went to the washing machine room to clean the ice machine. It was necessary to remove the fridge to get access but Tony helped shove it out of the way. It's not a particularly large room and also contains a delivery of some soft drinks which take up quite a bit of space. I can report that following my efforts, the ice machine appears to be making ice. This needs to be discarded tomorrow as the first lot might contain residue from the cleaning process.
The cats have had a number of visitors both young and old. Stavros contacted me to let me know the kittens would need to be at least three months old to be exported. I passed this information to Mathilde and I should imagine the children will be disappointed but the parents relieved.
I think the bread is done by the smell of it so I'd better take it out of the oven. The dogs know that walk time approaches so are going through their pre-walk restless phase. We'll go out a little later tonight as it's a full moon so I reckon it would be fun to walk after dark in the moonlight. I've just checked and moonrise is 20:42 which is a pity as last night would have been better for a moonlight walk but it wasn't a particularly appealing evening.