Isabella and Fido needed to go out around 02:00 so I was up for a few moments but continued my slumbers until it was time to get up.
I hung my light fleece over the branch of a tree when we walked to Plakaki as I was too warm with it on. All of the dogs managed to arrive at the end of the beach for biscuits today so we walked back together. It was a pleasant morning and we met only one person who was camping on the beach and walking to the loo.
The Swiss caravan which has been present for several days was joined by a couple of others on Alonaki and by a lone van in the car park. There was an orange tent at the northerly end of the Big Beach but the dogs appeared to completely ignore it. Some of them were vaguely interested as we walked to Plakaki but a gentle reminder was all that was needed to steer them away from the vehicles and other joys they might discover.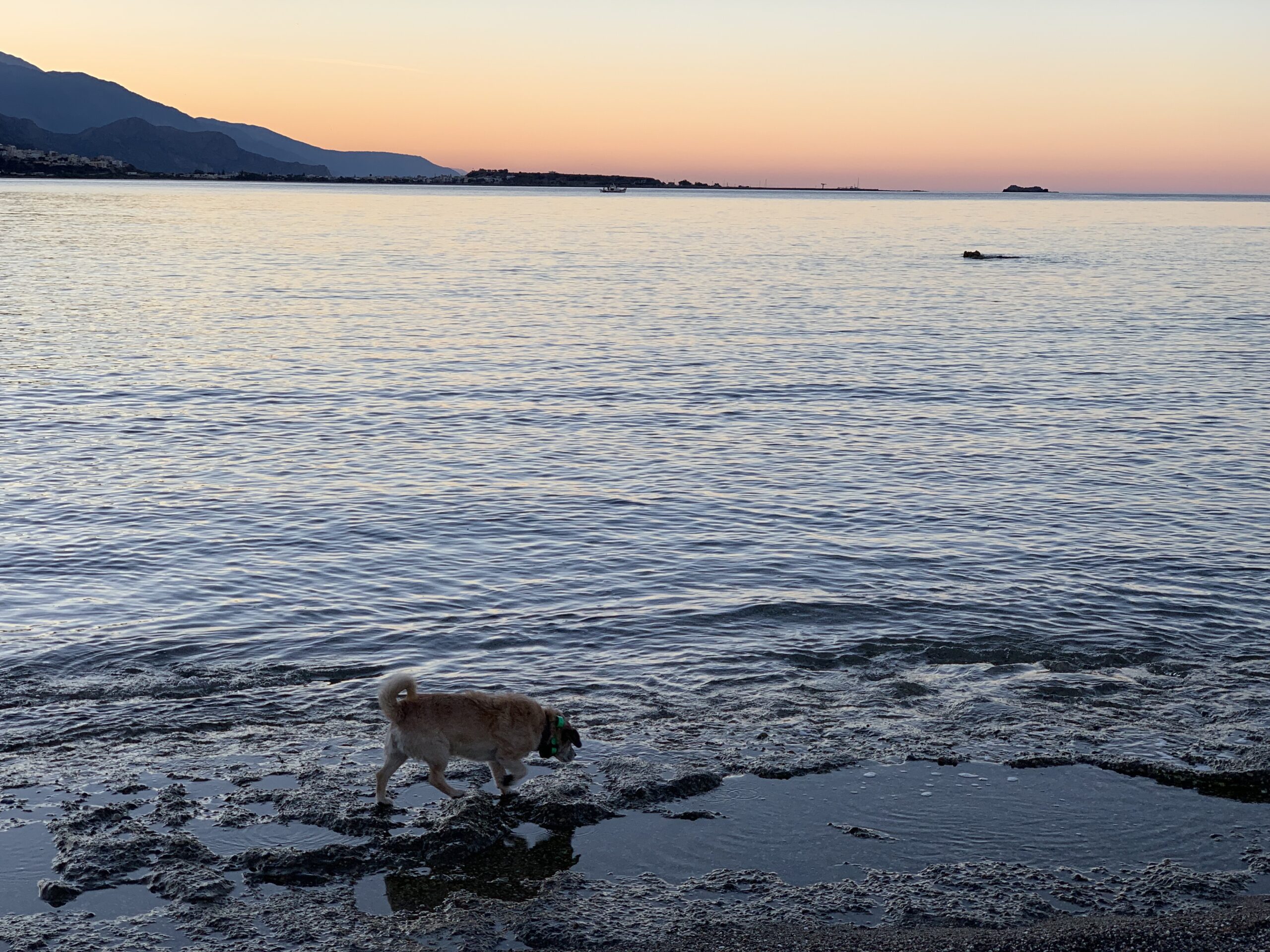 I made up some dough using white flour and a little starter before putting my breakfast together and then setting off for Petrakis. The road into town was quiet which is hardly surprising for a Sunday morning. Petrakis was equally quiet which is equally unsurprising. I saw Inke who was telling me she'd now had her vaccination. She's got someone coming to put down the floor in her new bathroom so will need to get some sand and cement.
The ride back to the camping was easy as there was no wind today and the road was free of machines for a change. There seems to be a good surface on all sections of road so I'm hopeful we'll see some tarmac soon.
It was before 09:00 but I released the dogs and fed them before preparing my breakfast and a cup of tea.
The day was warming up nicely due to the lack of any wind and the clear, blue sky overhead. I had a number of admin tasks I wanted to get out of the way so have spent most of my time working on them.
Mostly mundane things such as updates and virus checks. Nothing exciting or demanding. I've also been reading and fiddling around with the Booking website.
The camping is quietening down as the weekend customers leave. There are six booked in tomorrow in Z1 – Z3 but next weekend is looking a little bare with only one booking so far. The next big event is the holiday in June as that is Pentecost and Whit Monday which falls over the Solstice weekend, 20/21 June.
I've not had cause to go out into the camping with just a brief foray next door which was late in the day. Janne was asking if the pet store would be open so as to pick up the pet food. Heike is closed on a Sunday. They plan to visit Petrakis and are probably going to eat in one of their favourite restaurants.
Ι think my MacBook has finally given up the ghost as it is no longer receiving power from the adaptor. I think the power cable has failed or yet another aftermarket MagSafe connector has died. The MagSafe 2 was never very good as it falls out at the drop of a hat and gets very hot at times. It was bought in April 2014 when I came back to sell Tyndalls. Hardly a day has gone by without it being used. It lives outside all year round surviving 40C in summer and plenty of dust too. It's not done badly.
I've just watered the plants as I got up to see why Charlie was making a din. He was probably barking at one of the cats which had gone walkabout in the field next door. The Doggy Rice is ready and it's blissfully quiet as I shut some of them in when I went to prepare their rice. They followed me inside so I thought it an opportunity too good to miss!