Skinny was off his food last night so Oskar was eager to muscle in creating a slight disturbance to the Force at teatime. I picked up Skinny's bowl and put it out of Oskar's reach. Skinny finished off his food this morning as he seemed quite recovered. He however woke me at 04:10 so mindful of his delicate constitution I jumped out of bed to open the gate and stood there for a while waiting for him to come back in. He was wandering around so I went back to bed but not to sleep as it was too near to getting up time. I have since made up for the shortage.
Some large holes have appeared along the Alonáki Beach Road on the beach side. I'm pretty sure they are going to have trees planted in them from their positions. There is a line of trees already but these are intended to fill some of the gaps.
The pretty BMW SUV has made friends with the Mitsubishi pickup as they were parked close by and seemed to be getting on well together. The BMW didn't have its lights on either presumably because the battery was flat from the night before or the owner had remembered to turn them off.
I walked down the road to Plakaki for a change accompanied by the majority of the dogs. The beach in front of the bar sprouted some poles a couple of days back and the Blue Bulldozer has paid a visit as it is still parked nearby and the beach has been remodelled. There were stacks of loungers amongst the umbrellas waiting to be deployed. I figure the first row of chairs and umbrellas is a little close to the water's edge should there be an angry sea and some easterly wind.
We did our second pass of the Promontory and I think all but Fido and Luis went into the sea to varying degrees at some point.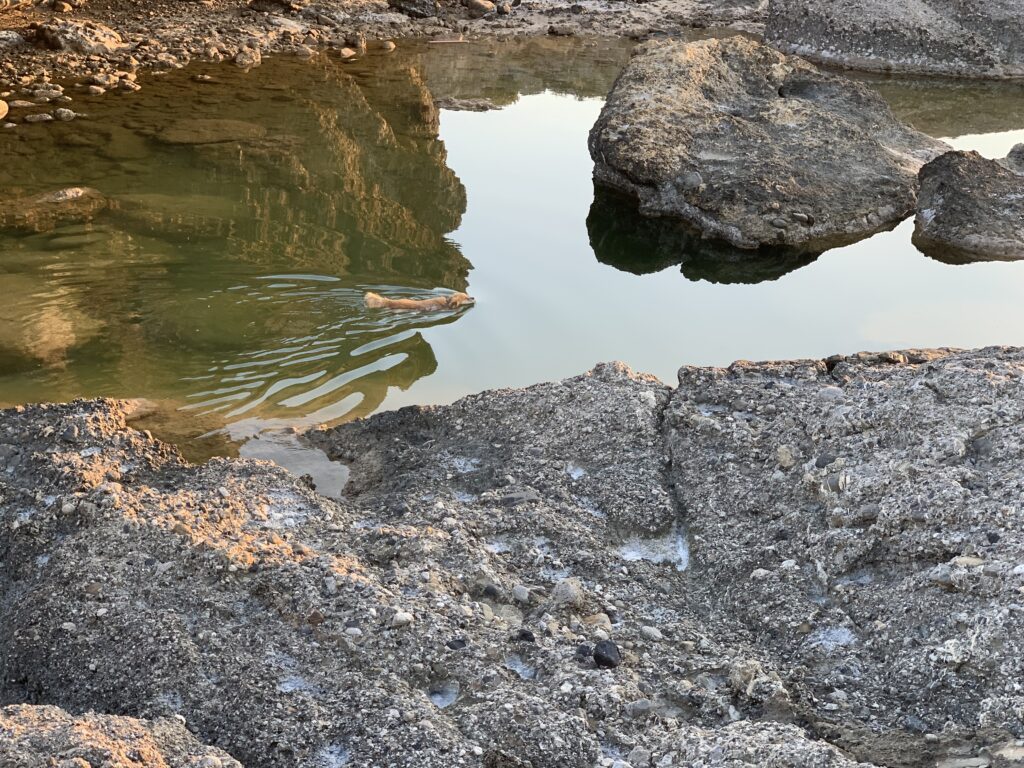 It was a little later when we arrived back at the camping as we left later this morning and hung about admiring the view. I made up some sourdough starter and bunged some flour, oats and seeds into a bowl with some water and salt. I churned it together with some additional ground flax and chia seeds just for good measure. It's not exactly difficult to make up starter and dough once you have everything to hand.
I went off on my bike towards Paleochora via Panorama and the road which then heads out of town towards Azogires. At the junction, I turned back and went to Petrakis for some fruit and veg. Afterwards, I went on a cruise around DownTown Paleochora before riding back to Grammeno. It was just after 09:00 so I nipped down to have a quick swim and to make sure the sea was still there. Silly really as it was very much there when I walked the dogs and it's making slightly more noise due to it lumpiness. It wasn't too lumpy as I had an invigorating and enjoyable swim before returning to the dogs.
Maria informed me she would be going to Kissamos later to receive her second COVID vaccination. She chose Kissamos, which is not all that near, because Kandanos clinic only has Astra-Zeneca which she doesn't fancy. I should imagine Michael was holding the fort during her absence. She asked if I might be available should there be an emergency but I felt Michael could cope fine on his own.
The day quickly became warm with 27C before 10:00. I sat outside in the sunshine once I'd dealt with the usual doggy requirements. One of the solar-powered light hasn't been working since Isabella chewed through the cable so I ran the cable under the decking and screwed the light down to the decking.
I spent the remainder of the time catching up on my stolen forty-five minutes or messing around with the camping WiFi, NAS drives and the like. I've done quite a lot but it was mostly fiddly little jobs which had been outstanding.
Erica and Janne went for their walk and there were a few spots of rain just after they left. Hardly enough to mark the decking. The forecast is still predicting scattered thunderstorms for the middle of the day tomorrow. The threat is less than 50% and <1mm of precipitation.
The wind got up as the afternoon passed and it now mostly from an easterly direction. The anemometer cups are going a great deal faster than twenty-fours ago.
The doggy rice has cooked. Luis and Oskar are banished inside for disturbing the peace and Isabella is flat out on the decking in a Korma.