My evening entertainment included a trip to Walton's Mountain and a brief spell with Sheldon who was in Cupid mode. Skinny, Isabella, Obi and Charlie opted to be outside all night but there was no cavorting. I was later going to bed as it was warm so I found myself planted in my chair out on the decking enjoying the relative cool of the night. When I finally went to bed, I seem to have managed to snag the corner of my insect tent which is supported by magnets to lines stretched between the curtain rails. As a result, I woke up feeling as if I'd been caught in a cobweb with the insect netting in my face.
The morning was warm but there were occasional blasts of wind to stir up the air. Different cars were parked in the beach car park and I could hear the sound of an automatic sprinkler working nearby. Later examination revealed that, not only has Mr Ammos Beach Bar erected a line of windbreaks north of his sun beds and umbrellas, he appears to be trying to sprinkle the nearby sand with litres of fresh water! The dogs eventually arrived for their biscuits so we carried on down to the rocks.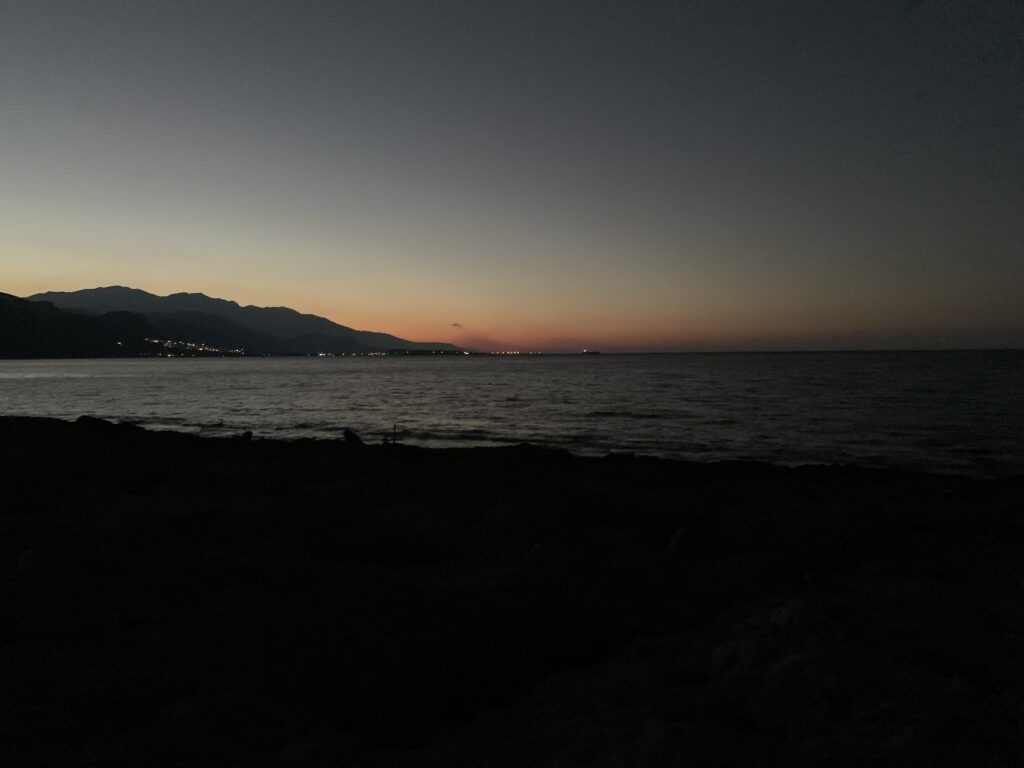 I had a feeling at least one of the cars would lead to bodies somewhere on the Promontory so was expecting to find either maggots or a tent or two on the Big Beach or secreted elsewhere. We lingered a while so the dogs could swim before continuing on to Plakaki. To my surprise, we appeared to have the place to ourselves once again. Not for long, as Kostas arrived soon after.
The fishing boat was anchored off the beach so I could see the fishermen quite clearly. They didn't seem to be too busy however they moved off soon after we left.
A couple on The Big Beach were surprised to find themselves caught up with seven dogs as they prepared to have an early morning swim. They stood, immobile together until I reassured them they were quite safe and bade them good morning. I had a feeling there was someone further on so we took the inland route bypassing the Small Beach. A dome tent was pitched further on in the flat area above. Skinny was all for exploring however I called him back.
We sat in silent contemplation looking at the calm sea for a few minutes which I found quite relaxing other than the nobly rocks poking me in the bottom. I distributed the final round of biscuits and we set off for the last part of our morning walk back to the camping. Kostas was collecting salt although only the dogs saw him as they were higher up. We took another detour back along the eastern coast to avoid disturbing the early morning bathers.
I made some tea then set off down to Grammeno beach for a swim seeing as it was warm and I thought it would inspire me to greater effort on my bike ride. In the distance, I could see Kostas' 4×4 parked on the Big Beach whilst he was doing something near the water's edge. I was swimming and it was quite far to I was able to see little.
I drank my tea, gathered up my shopping bag before riding out to Petrakis. There was plenty of fresh produce outside the store so I rummaged through to see what I looked the like of (please rearrange to taste). I went a little mad and seem to have bought lots of red peppers so I'll eat a couple this evening. The sweetcorn are still expensive and uninspiring so I contented myself with tomatoes which was the main purpose for the visit.
I rode straight back to the camping as I thought the dogs would be keen to get out. I quickly fed them, shoved the shopping in the fridge then sat down for a rest and more tea. It was warming up and the gusts of wind were more frequent.
I'd taken down the sun blocker in anticipation of strong wind yesterday evening and again today. There were a couple of strong gusts but the maximum of 44.3km/h this afternoon was nothing like what was forecast so I put the sun blocker back up. It makes a lot of difference so it's worth the effort which doesn't take a minute anyway.
I've been quite occupied and busy but don't feel as though I've achieved much. I've not received the photos of the property for sale so suspect they are caught up with Maria in the office. The couple produced a USB with images but I suggested they put them on Maria's laptop once they'd decided which they wished to use. I couldn't be bothered to walk up to the office yesterday evening following a message from Maria an hour after its receipt. I could see any visit dragging out for ages and I'd lose the will to live. There was no one in the office when I went there on my way back this morning. Maria was probably down at the bar.
It appeared very warm today although less so once the sun blocker was back in position. The forecast wind didn't materialise with the force predicted other than a few squalls. Tomorrow is forecast to have a top temperature of 33C and then it's 30C or below for the next few days. I'm not certain I believe that.
We're now at the halfway point in July so from this weekend on, it all needs to happen until the end of August. Not my favourite time of the year but only six or so weeks to go until we begin the slide into the autumn and the gradual slowing down. The consensus is that it will be very last minute as holiday makers react to the changing situation.
My excursion to the Customer Kitchens revealed that the small tents north of me have packed up and left after several nights. I don't expect to see a void there in twenty-four hours time.