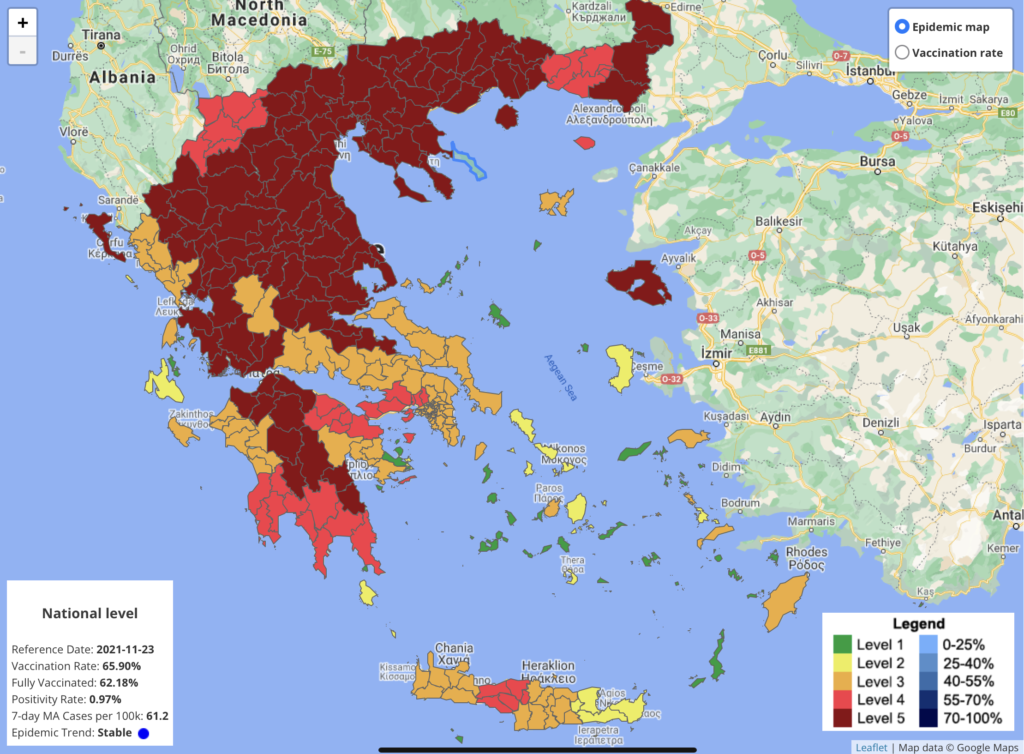 The night was windy and not without other disturbances some of which was down to me. The doggy water bowl inside the van is not that capacious especially when Isabella comes inside to drink and then splashes about 400l of water all over the floor. When there are at least two full bowls outside the van I wonder why she makes the effort to come inside to drink. This night it was empty. Oskar and Luis were not experiencing a friction-free night which impacted my slumbers. Eventually, I invited Oskar, Isabella and Fido to go outside and only Fido and Isabella came back in. Oskar remained quiet with Obi so things were a lot calmer for Luis.
I didn't get up at 04:45 due to the threat of rain so it was 05:30 before we left the compound. We walked the normal route except I used the road as it is more sheltered from the strong easterly wind blowing the sea halfway up the beach. The umbrella and three loungers at Azzuro were in the sea so I dragged the loungers up the beach several meters leaving the umbrella to fend for itself. It's buried in the shingle so would need a really strong storm to get washed away.
We walked back along the beach in the darkness and increasing rain. I had thoughts of abandoning the walk as we approached the entrance to the field but felt the dogs would be short-changed. We continued and got a little wet but everyone survived so were quite eager to get back to the van. I dried them off and put all but Isabella into the van.
I performed my mental workouts but it was blowing so hard I didn't fancy my chances even on a heavy electric bike. I took Isabella out for another walk on her own. We met Jorma and Siiri on the beach then went around the Promontory again.
The Austrians were moving their posh motorhome into a more sheltered location behind some bushes. Isabella and I approached and we had an interesting chat. They talked about coming back to Crete in March with their 4×4 and a motorbike. Not anything like as comfortable as their motorhome but more practical when visiting remote locations.
We went back through the camping as Isabella needs a little training in leaving the cats alone and not climbing the punters. She was still wearing her collar which I'd tightened up to increase its efficacy. We had a chat with Frank then went back to release and feed the others.
I'd been efficient as I'd made up the DDs and put them in the pot the night before so that I could concentrate on making banana bread. Things didn't quite turn out as I'd anticipated as there was a Royal Visit and a couple who were inspecting the camping for a fiend who should arrive early next week to stay for an indefinite period of time. I always take these proposals with a pinch of sea salt as I've heard it all before. There were lengthy discussions with Georgia which I mostly avoided due to other administrative tasks and a visit from ACS with two parcels. It seems that AliExpress is using DHL/ACS for last mile delivery and they're actually getting it together.
Georgia was explaining how much everything has gone up so intends to raise prices. I suggested there might be better ways such as charging the customers for their electricity. I maintain that whenever anything's included in the price there's less of a reason to bother to economise. Georgia quoted customers going out for the day leaving the air conditioning on full blast. After all, they have already paid for it in the price. I maintain that people are far more conscientious if they have to pick up the bill at the end. I showed her the app which allows me to read the customer meters before I go to see them to pay. Like this there are no photos to take so I simply read and reset the meter from my phone or iPad. I could easily take a photo as evidence if necessary. Georgia is big into this idea as she seems to be getting into technology having a pet technician onsite!
I eventually went back to the dogs to process the DDs and put on the Doggy Rice. Much of the day seems to have escaped me.