I didn't rush out as it was Sunday and it was very windy. I could hear the sound of the sea to the east so knew where the wind was coming from and how strong it was. The sky was cloudy, the moon was mostly invisible and only Venus poked her nose through the clouds when she could.
Crossing the causeway was an interesting operation as the sea was periodically breaking over the rocks and I didn't want wet feet. Even more interesting was where the river crosses the beach as the force of water from the sea was pushing the river inland up as far as the bridge. I could see from the damp sand that the sea had been a long way up the beach quite recently. We walked both directions up the road as it wasn't possible to rely on the sea and it was very windy on the beach.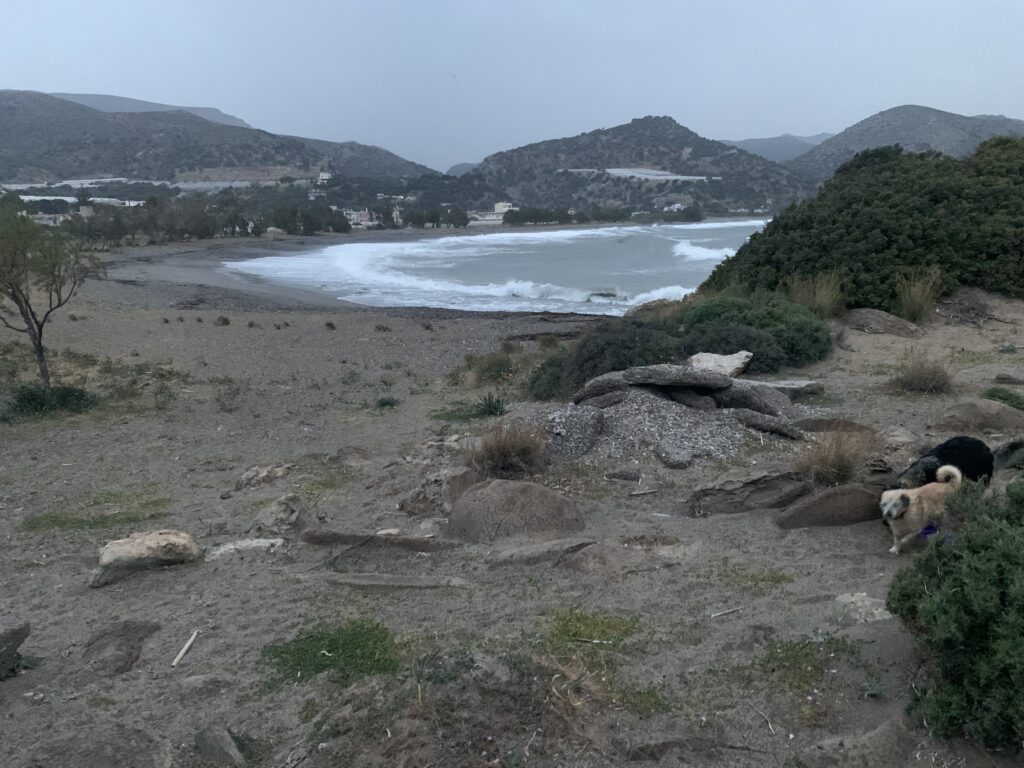 I decided not to recross the causeway as the sea was coming over the rocks more regularly since the wind changed direction more to the southeast. We returned to the camping whereupon the occasional drops of rain transformed into something slightly more persistant for a couple of minutes.
I exercised my brain then took Isabella for a wander. We didn't get that far as I received a phone call from reception from some new arrivals with a motorhome. l took Isabella back and installed the new customers. They were the first of two arrivals. I met Marie-Christine who was about to take Timo out so I got the spare collar and remote and went with them. This is not the first time Timo has worn the collar and I think he learns very quickly. We passed sheep and people but he made no attempt to go after them.
I fed the dogs and then myself and settled down to some server updates as the Lewes shop was closed. This took the remainder of the morning and was interrupted only by a phone call from Georgia promising food and the second arrival. I dealt with them before going to eat.
Georgia had made up some rice-like pasta which the others enjoyed with shrimps. I had a salad with some rusks and some of Georgia's family oil.
It was getting on by the time I left so I wandered the camping once more before returning to the dogs who were hopeful of some supper.