No awakenings so just the alarm to start the day followed by doggy activity. We managed to get out of the gate at a reasonable time to a mild by murky morning. I'd not looked at the forecast so wondered if it might rain the sky was so dark. No sign of the moon and very few stars.
Another vehicle had joined the Belgian Boudoir later to manifest itself in the camping. The Setra returned during the morning.
We easily crossed the rocks in the murky stillness and bound on to Plakaki and back to cross once more then to the van to offload the boys and go out again with the girls. We'd just completed out walk when we encountered Andreas with his two dogs. Sasha and Isabella didn't require too much persuasion to join them so we went around the Promontory and over the rocks once more. Andreas asked about the others so I replied we were back shortly after seven. He says he may revise his early schedule to take this into account. With the four dogs life was easier although the ball and the thrower created some tension. A sheep dog just likes to chase things.
I cycled to Paleochora with a stop at the bakery as I'd eaten most of the bread. No need for Petrakis but a trip around the port to check out the three ferries laid up out of the water for the winter. The elderly fishing boat is not looking so good.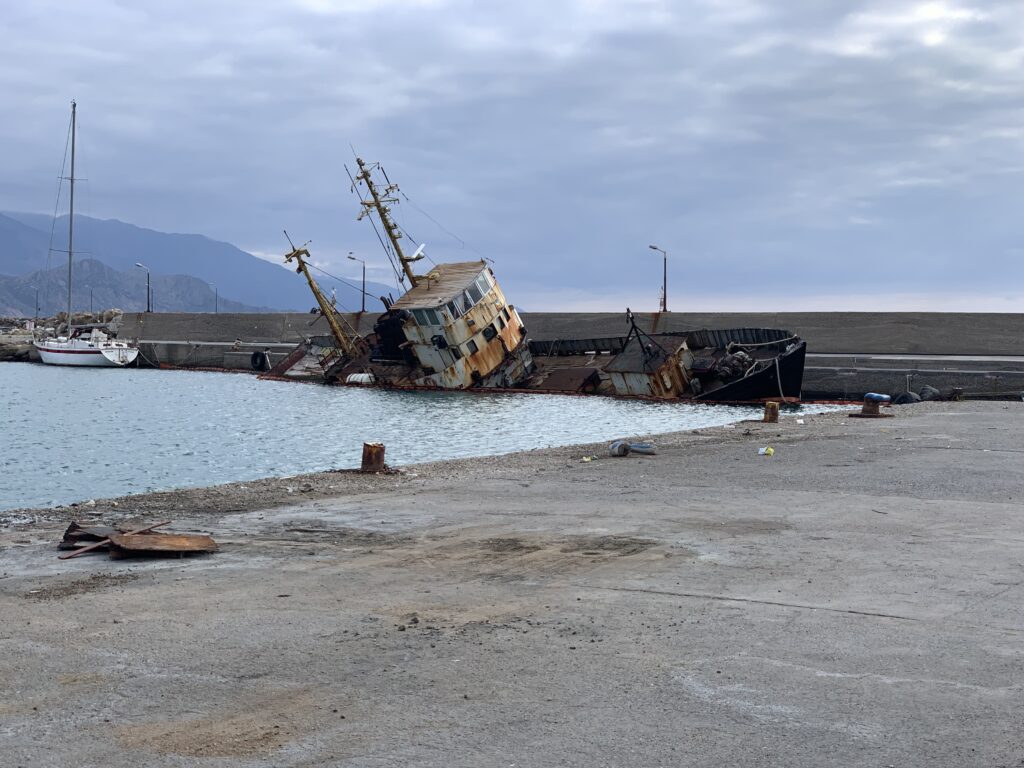 I returned to feed the dogs and get some tea and perhaps a bit of a sit down which wasn't really to be due to the return of the Setra then fixing the Beach Front WiFi repeater which had fallen victim to the elements as salty air had penetrated the connector. I installed a rubber seal and reinstalled the AP so it was working properly again with the help of various onlookers.
From then on I seemed to keep moving from one activity to another. Preparing food and other such mundane tasks. Later, I spent time with Maciej who tells me he will leave tonight and return on 6 January. I suggested a little, light dog-walking when he returns. Just so he can stretch his legs during his working day.
I was interrupted by a call from reception signalling the re arrival of our Dutch visitor from yesterday He paid one night but may decide to stay longer. He's installed outside the restaurant kitchen opposite the Norwegians.
I returned to put on the doggy rice and add to my Φακες. We're now inside the van except for Sasha and Obi. It's dark and I need to put on a light to serve my food.