The wind had subside by early morning but started to blow again so it was another windy walk. Getting to Plakaki was interesting as the sea was still pushing water into the river. Some careful timing was required.
We were a little later getting out so we encountered Jorma and Fido coming towards the Beach car park. It was a happy reunion with Jorma sporting a couple of large front paw prints courtesy of Isabella. She's such a naughty girl but not discouraged by Jorma.
I took the girls for a fast walk around then came back to cogitate in the hope of the wind calming a little before riding to Paleochora. I left after nine having first fed the dogs and leaving all but Isabella inside.
The wind was still strong but not dangerously so and I arrived in one piece. The sea was pushing over the beach in Paleochora with water on the road by the ferry terminal. The window cleaner will be busy for the next few days.
I stopped at the bakers and Petrakis for some DD stuff and some potatoes for me. The ride back was very quick and easy due to the strong, following wind.
I put on the DDs then collapsed into my chair with some tea and my laptop. I may have dropped off at one point.
Johannes and Saga left today so I went to see them to collect the balance of their money and help with some vegan snacks. Banana nicecream is very edible. All to do with bananas and chocolate powder. They left perhaps considerably later than the projected 13:30. They are off to catch the ferry from Kissamos tomorrow and thence to Githion for a trip around the Peloponnese. Saga and Luna will fly back to Helsinki leaving Happy and Johannes to drive back at their leisure.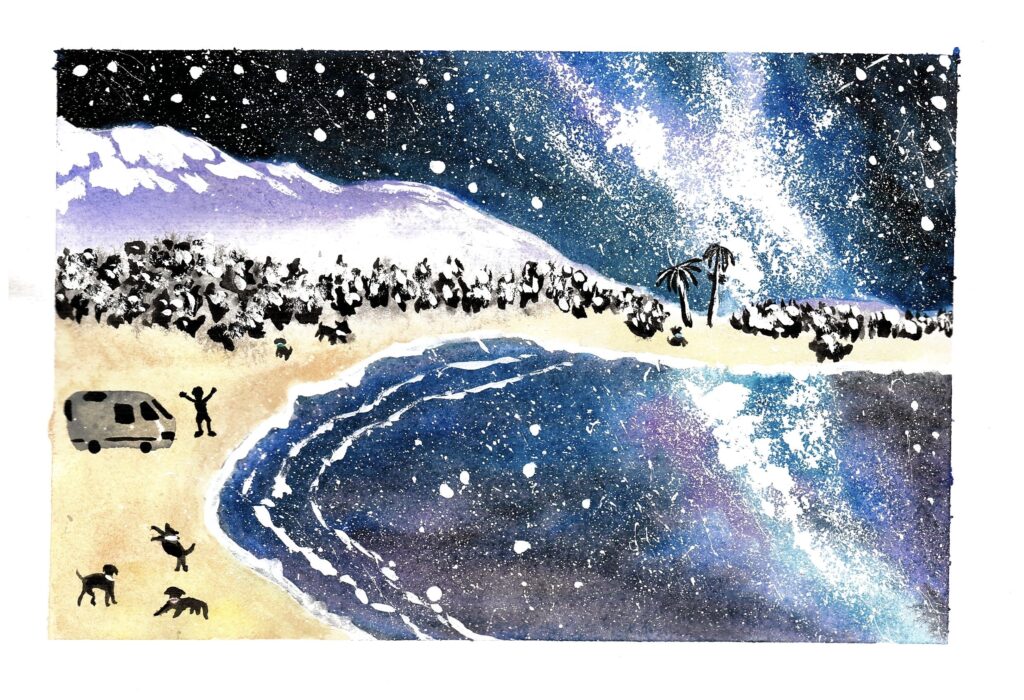 I went back to the dogs to process the DDs and put on the rice. My next task was to put some sheets in the washing machine as tomorrow there will be no electricity for much of the day. Bona says she will come in to tidy, clean and prepare the four rooms for future punters.