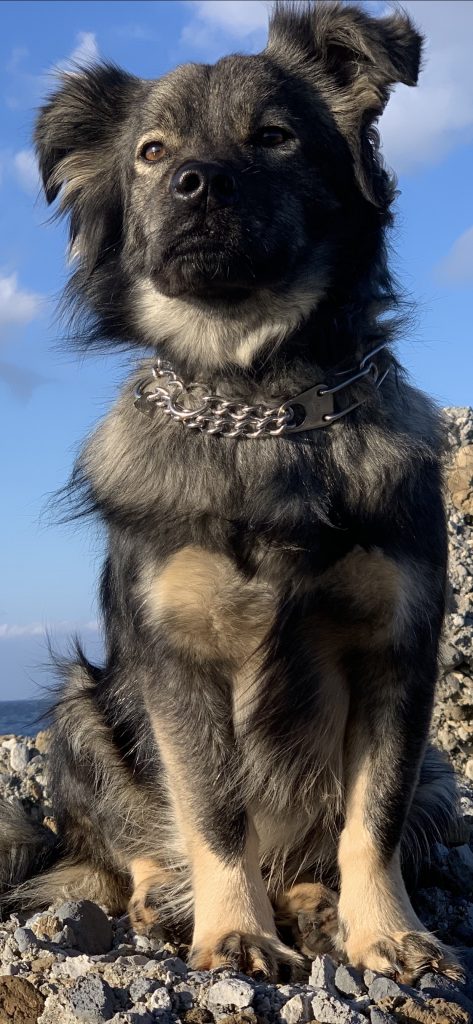 I am Oskar
I was born on 28 October 2015 and am one of seven puppies from my mum, Missie, who now has a wonderful home in Germany. I have lived all my life outside in a lovely location right by the sea. We go for walks every morning in a beautiful place, only a couple of minutes away, where we can play, dig, swim and have fun in the sand. I like to go in the water but I'm not as keen as some of the girls.
I have a twin sister, Heidi, who now lives in UK with her loving forever family.
Unlike my sisters and brothers, I'm a little unsure of things and it takes me a while to get used to anyone new. Once I get to know you, I'm as affectionate as the next dog.
I'm looking for a very special person who is willing to spend the time to work with me to help me to overcome my fearfulness. This may not be an easy task but you will be rewarded with a faithful and affectionate friend who will love you forever.
Here are some more details which might interest you:
I am black and white as you can see from the pictures
I am a boy
I weigh about 15kg
I am cm tall
I have been sterilised so won't go wandering off in search of a girlfriend
I've had all my regular doggy jabs and parasite treatments
I know how to sit nicely, especially at meal times
I know my name and will come when you call me
I'm a bit uncertain with other dogs until I get to know them
I can be a bit scatty when things happen suddenly, so you will need to be patient with me
I've lived all my life in the country so don't really know much about cars and roads. You will need to spend time with me so I understand and am not afraid
I am clean around the house and don't go on the furniture
Click any image to see it full-size in gallery view – Press the esc key to go back to the page
Mouse over the image to see the caption